2006 Ernest Fox Nichols Distinguished Lecture
William J. Romig
B.S. in Physics (1966) from Kansas State University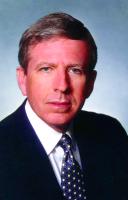 The Value of a Physics Education in the Business World
February 13, 2006
4:30 pm
102 Cardwell Hall
Dr. William J. Romig received a Bachelor of Science in Physics from Kansas State University in 1966. After serving in the military he continued his education at the University of Maryland. He received a Masters in Business Administration in 1971 and a Doctorate in Business Administration in 1975. While at K-State he was active in Student Government and a member of Delta Upsilon fraternity.
Dr. Romig began his career as an operations research project leader for the Association of American Railroads. He then went on to assistant vice president at Norfolk & Western Railway. In 1982 he joined Norfolk Southern Corporation as the assistant vice president of finance and in 1992 he became Vice President and Treasurer of the corporation. He was recognized as the logistics and transportation person of the year in 1999 by the University of Maryland Logistics and Transportation Society. In addition he is a member of Phi Kappa Phi and Beta Gamma Sigma.
Dr. Romig is chairman of the board for Children's Hospital of The King's Daughters, a member of the Norfolk City Bond Commission and a member of the Financial Executives Institute and the National Association of Corporate Treasurers.
He will present his lecture on February 13, 2006, in 102 Cardwell.