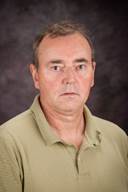 I began my career as an experimental condensed matter physicist.  Nanostructured rare-earth alloys in thin film and fine particle form were prepared in my lab and their structure and magnetic properties were studied.  More recently my interests have evolved and I have i) developed methods to extract small quasi-periodic signals from very noisy time series with application to financial time series and ii) developed models of various outdoor activities (climbing, whitewater boating, snowboarding, backpacking).
In 2005 I became Associate Department Head and Director of the graduate program.  A limited amount of relief from teaching and research allowed me to dedicate time to these responsibilities. 
The physics courses I have taught span a range from Conceptual physics for non-scientists to graduate level classes that include special topic courses.  I really enjoy teaching and I find that students appreciate a teacher who is enthusiastic about their subject.